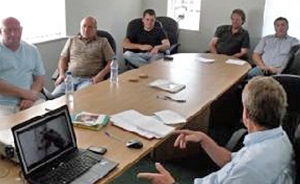 Driver CPC Training Courses
The 3.5 hour driver CPC courses listed in this section are individually approved by JAUPT. You can combine two modules of your choice which are relevant to your operation to make up a seven-hour course e.g. Fitness & Health plus Safe Loading.
Defensive Driving Theory and Practical
, is a full seven-hour course using your three seat vehicle, with a maximum of two drivers per trainer per course.
Professional Driver's First Aid
, is a full seven-hour course delivered by St John Ambulance on our behalf for a maximum of 12 drivers due to its hands-on practical content.
Course Location
Courses can be run on your premises anywhere in the UK, if you are able to provide a suitable training room. We will check the room prior to the course to ensure that it meets basic JAUPT requirements. We can provide all audio visual equipment. We suggest that you provide refreshments during the day. If you do not have a suitable room we will work with you to find a suitable local venue such as a room hire in a locall leisure centre or library.
CPC Course Scheduling & the 35 hours requirement.
Category D and C drivers who acquired their Driver Qualification Card (DQC) by sitting the four part test after September 2008 or 2009 respectively, have five years from their test date to complete their 35 hours of Periodic Training. This can be determined by the expiry date on their DQC.
The 35 hours can be phased over this period to suit you. e.g. 7 hours per year for five years, or 14 hours in each of two years and 7 hours in one year, or any combination so long at the 35 hours is completed before the expiry date on the DQC.
Drivers who acquired their first Driver Quaiification Card under acquired "grandfather rights" need to complete a further 35 hours of approved periodic (refresher) training by the expiry date on their card.
CPC Course Timings, Weekend Training & Course Size
Most courses run between 9:00 a.m. and 5:00 p.m. but earlier starts are welcome. A full seven hour session must be completed in one day. Or the seven hours can be completed over two days providing that the second 3.5 hour session starts within 24 hours of the end of the first 3.5 hour session.
We can run courses during the normal working week or on a Saturday or Sunday
We are registered with JAUPT to deliver courses for up to 15 delegates on one course.
Driving Licences and Identification
Drivers must produce the appropriate documentation for identification purposes when attending a driver CPC course. The options are a Photo-card Driving Licence or a current CPC Driver Qualification Card or a current passport or a current digital tachograph card.
All documents must be originals, NO copies are permitted. Scans or copies held by employers are NOT acceptable. If a driver fails to produce the appropriate documentation we will not be able to upload his attendance records to the DVSA register.
Attendance & DSA Registration
Drivers must attend the full seven hours of training to qualify for having their seven hours attendance uploaded to the DVSA register. Drivers failing to attend the full seven hours will not have their details registered with the DVSA so even their partial attendance will not count. Late arrivals or early leavers will not be registered as having attended.
Drivers completing seven hours training will have their details uploaded to the DVSA register. Once a driver has completed 35 hours of training, the DVSA will issue a Driver Qualification Card (DQC) which is sent to the driver's home address before the expiry date of the old card.
See How to Check your CPC hours here
Course Fees
The fee for a seven hour course on your premises is £400 plus VAT per trainer day plus upload fees for a maximum of 15 drivers. Upload fees are currently £8.75 per driver for each seven hour course and are recharged to you at cost.
Professional Drivers First Aid is a seven hour course delivered by a St John Ambulance trainer. Outside of the M25 the fee is £770 plus VAT for a maximum of 12 delegates plus £8.75 per driver upload fee. The fee within the M25 is £870 plus VAT for a maximum of 12 delegates plus £8.75 per head upload fee.
If you require further information please call us on 01384 442233