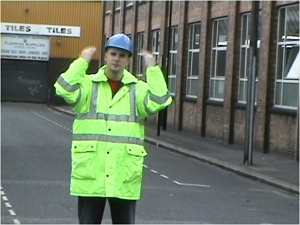 Banksman Training
Our trainer can deliver two half-day courses for four delegates per course, eight delegates per day, at one location for £400 plus VAT.
The course starts with a 45 minute theory session instructing the delegates on the best practice techniques used in reversing manoeuvres and traffic control. Legal requirements and the do's and don'ts of reversing are discussed in detail. This includes
Identification of dangers on site
Vehicle and Banksman positioning for maximum safety
Demonstration and use of the correct HSE and Road Transport Industry Training Board code of signals
Practise with rigid and articulated vehicles if available on site.
Following the theory session we move to the yard or manoevring area where the delegates will normally be operating as banksmen.
A number of individual and team exercises are undertaken to ensure that the delegate is able to assess the exercise and then carry it out in a safe and competent manner. Depending on numbers the practial session lasts around 90 minutes to two hours.
The session ends with a review and questions.
The Banksman signals used on this course are shown in the
Banksman Signals Video
on the HSE Workplace Transport website.
Certification
After the course each delegate will receive a Certificate of Attendance.
You will also receive feedback on other items such as yard layout, driver etiquette and any other safety related suggestions that may help to improve safe working practises on site.
This course can then be repeated with four more delegates. Start and finish times are flexible to fit in with your operation. Delegates should be supplied with hi-viz clothing and we will require a vehicle for the practical exercise. This should ideally be a commercial vehicle that requires the driver to communicate with the banksman via the door mirrors.
Depending on location our lead times are usually less than a week.
To check availability please call us on 01384 442233 or click on the Get Quote button.