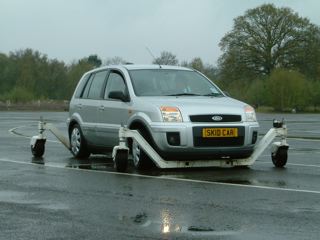 Skid Car - Skid Control Course
This course will teach drivers to recognise the causes of a skid and learn how to master the control of front wheel, rear wheel or a four wheel skid. The instructor can adjust the car's behaviour according to the skill of the driver, and gradually increase the severity and type of skid as the driver's confidence and ability increases. Aquaplaning and black ice conditions can also be simulated in a safe learning environment.
The course programme is tailor made to suit your requirements.
A popular format is to arrange for a skid control session to be incorporated into a full day of Defensive Driving. We arrange to meet at the nearest convenient skid control site at 9:00 a.m. Following a safety briefing the delegates are organised into groups of two or three per car. Each group has an allocated time slot of between 60 to 90 minutes on the skid car. The rest of the day is spent out on local public roads under tuition learning advanced driving techniques.
Courses can be held at various locations throughout the UK including Donington Park adjacent to East Midlands Airport and Castle Coombe Circuit in Wiltshire. We can hire the most suitable skid control facility once we know the location of your drivers.
Fees depend on the location and number of drivers attending.
We will be pleased to discuss the options with you -
for more information please call us on 01384 442233 or use the Contact Us form
.