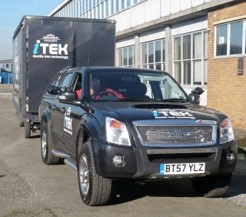 Trailer Towing Courses - One Day
Please note this is not a course for drivers preparing for the B+E driving test
.
Drivers who passed their car driving test on or after 1 January 1997, may now need to pass a separate test (licence category B+E) to tow a trailer or caravan weighing over 750kg MAM, and where the MAM of the combination of towing vehicles in category B and trailer exceeds 3500kg. MAM is the maximum Authorised Mass (weight) also known as the gross vehicle weight. It is the weight of the trailer plus the weight of the maximum permitted payload.
This course helps drivers who may be pulling a small trailer for the first time or as a refresher course for more experienced drivers who may already have B+E, or C1+E or C+E entitlement.
The ideal training ratio is two delegates to one instructor. Clients will need to provide a suitable vehicle and trailer for the course.
This one-day driver training course can be held at any location in the UK or Ireland covers:
Trailer construction
Braking systems and their effect
Safety Considerations
Legal Requirements
Coping with emergencies and breakdowns
Tractor and trailer weight ratios
The practical session will include:
Manoeuvring and reversing exercises
Coupling and uncoupling procedures
Breakdowns and changing wheels
Loading and weight distribution
Driver Reports
After the course each driver will receive a Certificate of Attendance and a full written report which will highlight any areas that can be improved. If we identify any drivers who we feel would benefit from further help, their report is fast tracked and we will discreetly contact you and arrange a further 1:1 in vehicle session.
You will also receive feedback on other items such as vehicle condition, eyesight checks and any other safety related suggestions that may help.