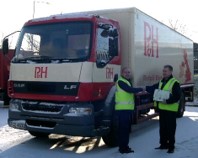 Driver Assessor Training
In house Assessors can be used to check colleagues' driving standards or for pre-employment selection. For large companies, particularly LGV operators with a branch network, having a group of trained Assessors is a cost effective means of ensuring driving standards are maintained and further training needs identified. If the role of Assessor is advertised internally, we can provide an Instructor to assess candidates' driving skills and suitability for the role as part of the selection process.
The Driver Assessor's Course is a three day part theory part practical course with an ideal training ratio of two delegates to one instructor.
Day One
is spent on introducing the Assessors to the Police Driving Manual Roadcraft and getting their own driving standards up to scratch. There is an in depth analysis of the "Roadcraft System". This is essential as the benchmark for assessing a driver is his or her ability to apply a consistent and "systematic" approach to hazards. The etiquette of conducting an assessment and communication skills are taught. We then move on to the normal practical session - eyesight and vehicle check, assessment drive, demonstration drive from the instructor and a final correctional drive with help and advice.
Day Two
covers driver assessment techniques. If there are two delegates per instructor each will take a turn at assessing their colleague. The process continues throughout the day on a variety of roads and situations with regular feedback and tuition.
Day Three
consists of a morning session with the Assessor being evaluated while assessing a driver in a realistic situation with the added pressure of their performance also being monitored. Feedback will focus on any aspects needing more polish.
On the afternoon of day three we carry out a "mock" Advanced Driving Test for each Assessor to gauge how they would fare in the proper test at that stage of their training. We can then arrange for the real test to take place at a later date.
We recommend that at a later date the Assessors take the RoSPA Advanced Test. This gives them an independent qualification, which is an important part of the psychology of colleagues accepting their right to assess a fellow driver.
At the end of the course each Assessor receives a report on their driving and Certification.
Course Fees
The course fee is £360 per trainer day plus VAT for up to two delegates. Therefore the total fee for the three day course is £1080 plus VAT for up to two delegates. The optional RoSPA test is £55 plus VAT per delegate. We can make the test arrangments and invoicing.
We recommend that the Assessors attend a one day Assessor refresher check course annually to ensure that they are maintaining their standards.