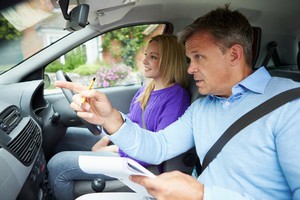 Half-Day Defensive Driving Courses
If releasing drivers from their normal job for a day is difficult there are several options.
Option 1 - Half day part theory-part practical sessions
A shortened theory session is followed by in vehicle driver training. One driver per Instructor from 9:30 a.m. to 12:30 p.m. and one driver from 1:00 p.m. to 4:00 p.m.
The In Vehicle Driver Training starts with a vehicle inspection and an eyesight check. The delegate then has an assessment drive so that we can establish an idea of their ability. Our Instructor will then give a demonstration drive with a commentary to demonstrate just how far ahead it is possible to plan. The principles of a "Systematic" approach based on the police driving manual "Roadcraft" will be demonstrated in this drive. Delegates then take a second turn behind the wheel and receive helpful tuition and advice aimed at improving observation anticipation and planning. In the case of commercial vehicle drivers, specific manoeuvring exercises can be built into the programme as this is often a high claims area.
The session ends with feedback for the delegates and a review of the session.
Option 2 - Seminar followed by in vehicle driver training
For example a theory session for 10 on the morning of day one is followed by in vehicle training for two drivers as above. Over the next two days one instructor completes the in vehicle training for the remaining eight drivers - two delegates a.m. and two delegates p.m.
If 1:1 training is preferred or necessary e.g. if the vehicle is a two seater van, the instructor can run three two hour 1:1 sessions per day.
Option 3 - Course notes followed by in vehicle driver training
Ideal for situations where there is a high staff turnover or it is difficult to release staff for a whole day. In such cases we can dispense with a theory session and supply course notes to the delegates prior to the practical driver training. One instructor can then meet the drivers near to their home or place of work and conduct a normal in vehicle session as above. The training ratio can be 1:1 or 2:1 per half day ( three hours) session so for the cost of one instructor up to four drivers can be trained in a day. Or the instructor can run three two-hour 1:1 sessions per day.
Driver Reports
After the course each driver will receive a Certificate of Attendance and a full written report which will highlight any areas that can be improved. If we identify any drivers who we feel would benefit from further help, their report is fast tracked and we will discreetly contact you and arrange a further 1:1 in vehicle session.
You will also receive feedback on other items such as vehicle condition, eyesight checks and any other safety related suggestions that may help. .
Please note that we always charge for a full Instructor day so it is important to organise the course so that the instructor runs at least two driver training sessions during the day to get best value for money
. We will be pleased to advise you on the most cost effective format.